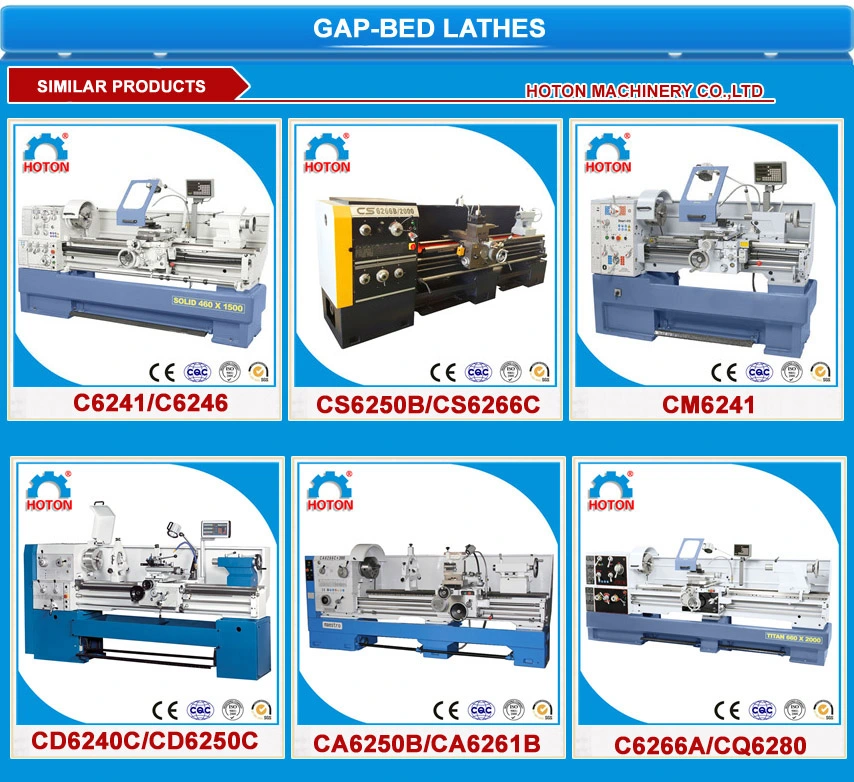 LATHE FEATURES:
High precision gap bed lathe machine swing over bed 660mm
1. The surface of the bedways is supersonic frequency.
2. The spindle bore size is 105mm. The spindle system is high in rigitidy and accuracy.
3. There is no need for change gears. The machine can turn about 89 kinds of metric, Inch, Module and D. P. Threads.
4. An automatic stopping device is used to realize automatic stop for the machining of a workpiece of a certain length.
SPECIFICATIONS:
MODEL
C6266C
Max. Length swing diameter
Over bed
mm
660
Over carriage
mm
420
In gap
mm
870
Max. length of workpiece
mm
1000/1500/2000/3000
Effective length in gap
mm
240(9")
Spindle
Spindle bore
mm
105(4")
Taper of bore
113mm 1:20
No.of speed
12
Range of speeds
r.p.m
36-1600
Thread cutting
Metric range /NO
1 ~14mm/22
Inch range/no
28 ~2 t.p.i/25
D.p. Rang/no
56 ~4 D.P/24
Module range/no
0.5~7mm/18
Range of feeds
Leadscrew
mm
0.028-6.43
Cross
mm
0.012-2.73
Rapid traverse
Leadscrew
m/min
4.5
Cross
m/min
1.9
Tailstock sleeve
External diameter
mm
75(2-61/64")
Taper of bore
MT5
Max. Travel
mm
150
Max. travel of compound rest
mm
145(5-3/4")
Max. cross slide travel
mm
310(12-3/32")
Max. size of tool shank (WxH)
mm
25x25(1"x1")
Power of main motor
kw
7.5(10HP)
Overall dimensions (LxWxH)
mm
2500/3000/3500/4500x1100x1450
Net weight
kg
2500/2700/3000/3350
STANDARD ACCESSORIES :
SPECIAL ACCESSORIES
325 3-jaw chuck
Face plate
Morse reduction sleeve 113 1:20/M.T.No.5
Centers M.T.No.5
Wrenches
Operation manual
400 4-jaw chuck
250 Drive plate
Steady rest
Follow rest
Taper turning attachment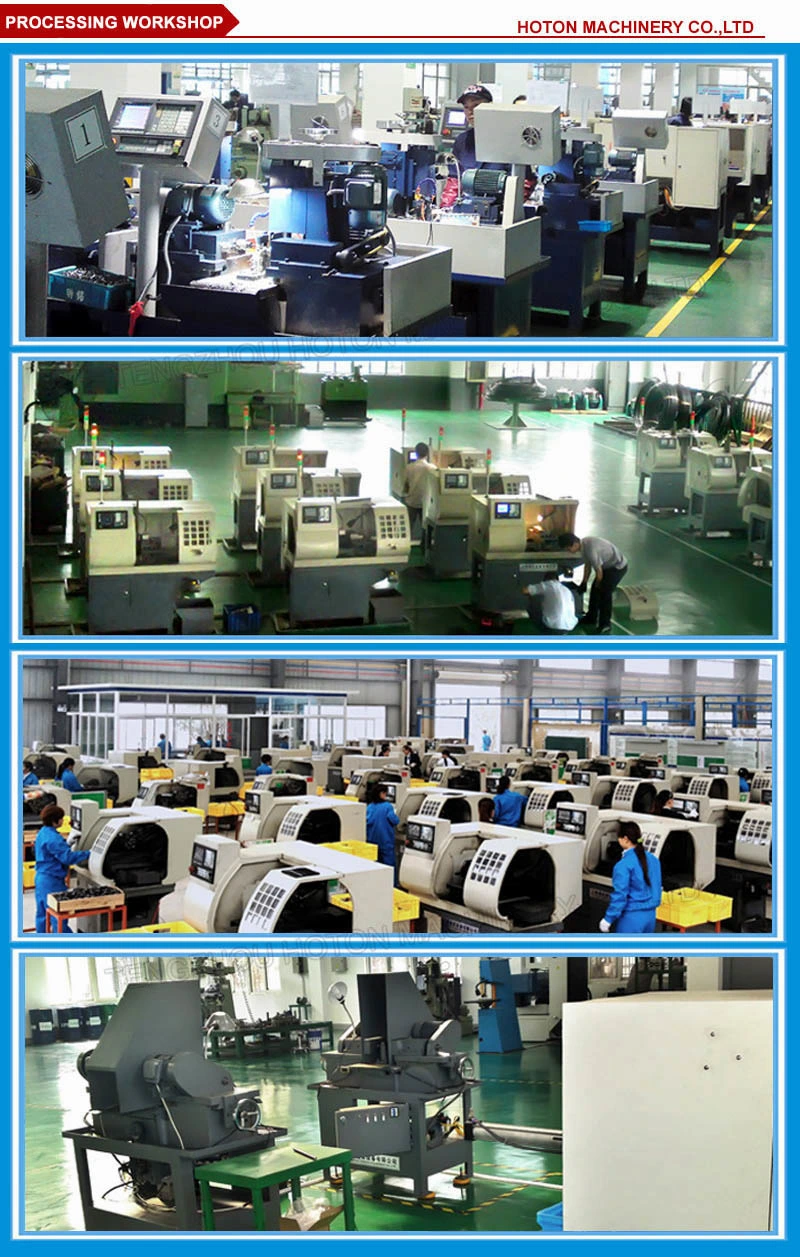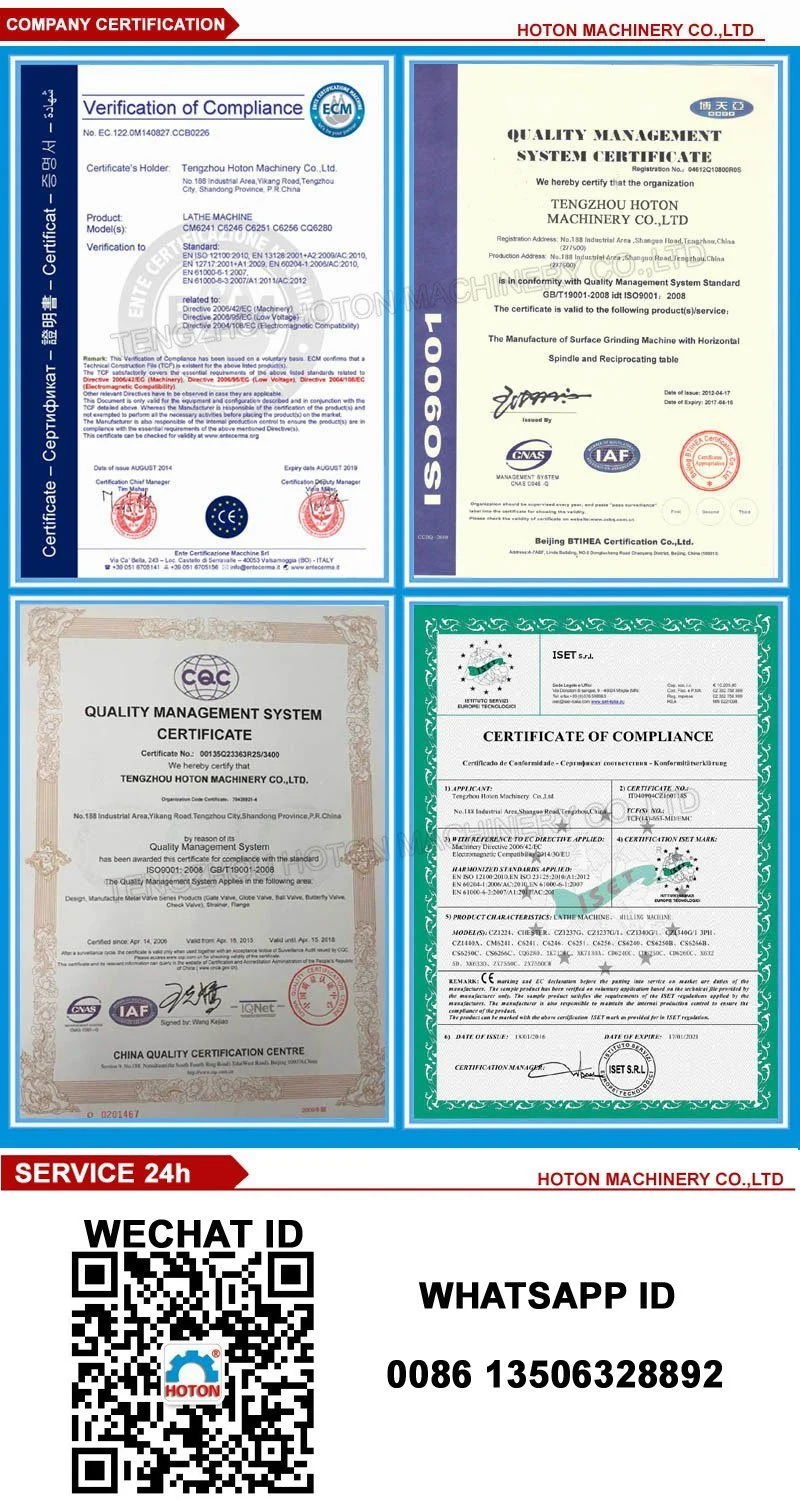 Contact Us:
Andy Wang
TENGZHOU HOTON MACHINERY CO.,LTD
Tel:0086 632 5633796
MP:0086 13506328892
hotonmachinery.en.made-in-china.com
Company Profile
:
Tengzhou Hoton Machinery Co.,LTD was established in 2006, and is the professional machine manufacturer in China. There are 480 workers, of whom 60 are engineers. It has an area of 46,000 square meter, general assets 30,000,000. It has a store of 350 equipments and the good ability of products design & manufacturing. It has export quality permit from 2007, and has export right given by the State Foreign Economic Trade Committee in 2008.
The leading products: "Hoton" series of CNC machines, Lathes, Milling machines, Drilling machines,Grinding machines, Saws, Sheet metal machines, Metal forming machines, and other machine accessories.Some products have national patent.It has fourteen series, over eighty models by itself. It has the ability of making 100,000 sets every year. All the products are designed perfectly and has high quality high performance and low price, and the excellent quality guarantee system. The products have past ISO9001 and CE certification since 2009. The products have been export to five continents, over forty countries and areas. It resulted to the attraction of client abroad and home, the quickly promotion of products sale.
Tengzhou Hoton Machinery Co.,Ltd. is willing to make common progress and developments with all the customers.
Quality first,Constantly perfecting skills.