Gap Bed Lathe Turning Lathe Machine C6241 Metal Lathe Machine Price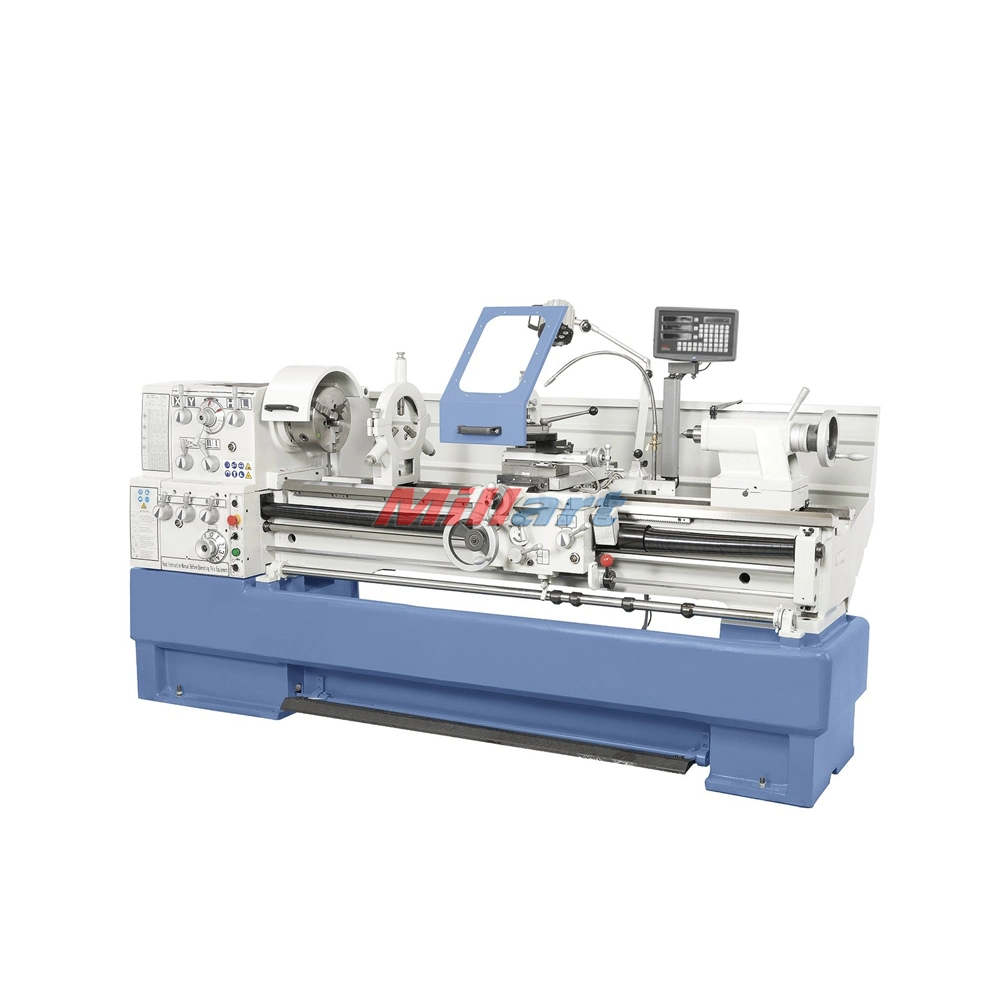 Feature:
The guide way and all gears in the headstock are hardened and precision ground.
The spindle system is high rigidity and accuracy.
The machines have powerful headstock gear train, high rotating accuracy and smooth running with
l
ow noise.
An overload safety device is provided on the apron.
Pedal or electromagnetic braking device.
Tolerance test certificate, test flow chart included
Technical parameter:
| | |
| --- | --- |
| Model | C6241 |
| Swing over bed | 410mm |
| Swing over cross slide | 220mm |
| Swing in gap | 640mm |
| Distance between centers | 1000/1500/2000/3000 mm |
| Valid length of gap | 165mm |
| Width of bed | 300mm |
| Spindle nose | D1-6 |
| Spindle bore | 58mm |
| Taper of spindle bore | No.6 Morse |
| Range of spindle speed | 12 changes, 25-2000r/min |
| Max.travel of top slide | 128mm |
| Max.travel of cross slide | 285mm |
| Max.section of tool | 25x25mm |
| Pitch thread of leadscrew | 6mm or 4T.P.I. |
| Longitudinal feeds range | 42 kinds, 0.031-1.7mm/rev |
| Cross feeds range | 42 kinds, 0.014-0.784mm/rev |
| Metric threads range | 41 kinds, 0.1-14mm |
| Inch threads range | 60 kinds, 2-112T.P.I. |
| Diametrical pitches range | 50 kinds, 4-112DP |
| Module pitches range | 34 kinds, 0.1-7MP |
| Dia. of tailstock sleeve | 60mm |
| Travel of tailstock sleeve | 128mm |
| Taper of tailstock sleeve | No.4 Morse |
| Power of main motor | 5.5kW(7.5HP) 3PH |
| Power of coolant pump | 0.1kW(1/8HP) 3PH |
Standard accessories :
| | |
| --- | --- |
| Three Jaw Chuck and Adapter | Reduction Sleeve |
| Four Jaw Chuck and Adapter | Dead centers |
| Face Plates | Work lamp |
| Steady Rest | Coolant system |
| Follow Rest | Foot brake |
| Oil Gun | Operate tools |
| Thread Chasing Dial | Operation Manual |
Optional accessories :
| | |
| --- | --- |
| Taper turning attachment | Quick change tool post |
| Lead Screw Cover | Live center |
| Tool post cover | DRO |
| Chuck cover | |