CA Series Horizontal Lathe machine manual metal lathe CA6150/CA6250

Product Application
1 CA series ordinary horizontal lathe is used to turning internal and external cylindrical surface, conical surface, and other rotating surface, turning various metric and inch, modulus and pitch thread, and the pitch diameter of the thread and pull the drilling and oil tank etc., is general very strong horizontal lathe, Widely applicable batch processing of various shaft and disc parts.
2 The series lathe bed width in general lathe, 400mm rail width has higher stiffness, rail surface by intermediate frequency quenching, wear-resistant durable.
3 Handy machine operator concentration, slide plate is provided with a quick moving mechanism. Using single handle operation, humanization.
4 The rigidity of the machine tool structure and the transmission stiffness are higher than the general lathe, the power utilization rate is high, which is suitable for the strong cutting.
5 Before leaving the machine tool factory, the machine tool is tested strictly according to the inspection procedure, and the machine tool is tested to ensure that the machine tool has good stability and reliability.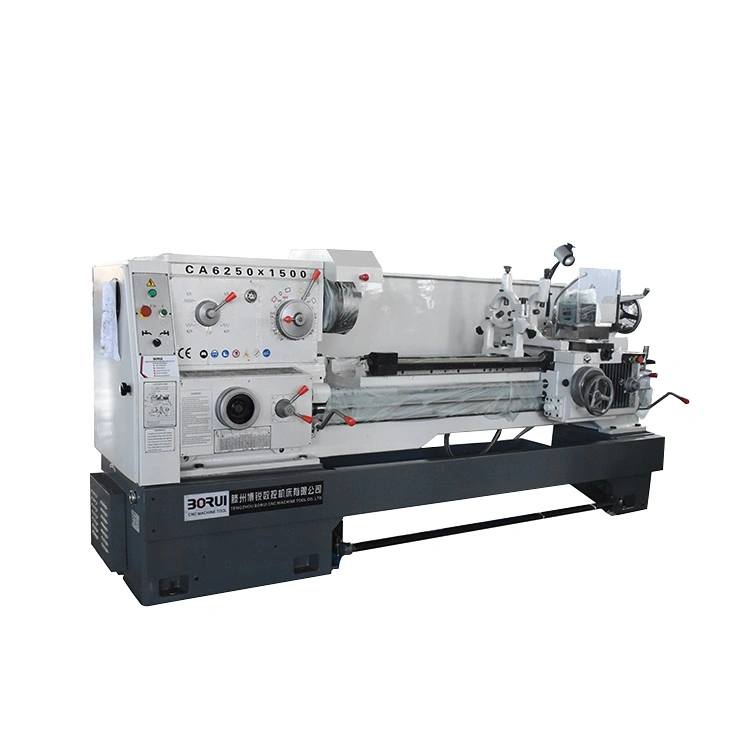 The main specification :
Specifications

CA6140
CA6140B

CA6240 CA6240B

CA6150
CA6150B
CA6150C
CA6250
CA6250B
CA6250C
CA6161
CA6161B
CA6161C
CA6261
CA6261B
CA6261C
CA6166
CA6166B
CA6166C
CA6266
CA6266B
CA6266C

Max. Swing over bed

400mm

500mm

610mm

660mm

Max. Swing over carriage

210mm

300mm

370mm

400mm

Max. swing in gap

--

630mm

--

720mm

--

830mm

--

880mm

Effective gap length

--

210mm

--

210mm

--

210mm

--

210mm

Max. length of work piece

750mm/1000mm/1500mm/2000mm/2200mm/3000mm/4000mm

Width of bed

400mm

Section of turning tool

25x25mm

Spindle

Spindle speeds

10-1400rpm/16-1400rpm(24steps)

Hole through spindle

52mm. (80mm). [105mm]

Spindle taper

MT6(Φ90 1:20)[Φ113 1:20]

Feed

Number of feeds

64 kinds(for each)

Range of metric threads

1-192mm (44kinds)

Range of inch threads

2-24tpi (21kinds)

Range of module threads

0.25-48(Module39kinds)

Range of pitch threads

1-96DP(37kinds)

Tailstock

Max. tailstock spindle travel

150mm

Tailstock spindle diameter

75mm

Taper of tailstock spindle center hole

MT5

Main motor

7.5KW(10HP)

Packing dimensions (L*W*Hmm)

Overall dimensions for750mm

2550x1140x1750

2550x1140x1750

2550x1140x1750

2550x1140x1750

Overall dimensions for1000mm

2700x1140x1750

2700x1140x1750

2700x1140x1750

2700x1140x1750

Overall dimensions for1500mm

3200x1140x1750

3200x1140x1750

3200x1140x1750

3200x1140x1750

Overall dimensions for2000mm

3700x1140x1750

3700x1140x1750

3700x1140x1750

3700x1140x1750

Overall dimensions for2200mm

4030x1140x1750

4030x1140x1750

4030x1140x1750

4030x1140x1750

Overall dimensions for3000mm

4850x1140x1750

4850x1140x1750

4850x1140x1750

4850x1140x1750

Overall dimensions for4000mm

5800x1140x1750

5800x1140x1750

5800x1140x1750

5800x1140x1750

Weight (kg)

Length

G.W N.W.

G.W N.W.

G.W N.W.

G.W N.W.

Weight for 750mm

2100 1990

2170 2061

2300 2180

2380 2260

Weight for 1000mm

2190 2070

2260 2140

2380 2250

2570 2450

Weight for 1500mm

2350 2220

2420 2290

2577 2437

2810 2640

Weight for 2000mm

2720 2570

2790 2640

2940 2787

3050 2880

Weight for 2200mm

2800 2600

2940 2790

3120 2970

3390 3180

Weight for 3000mm

3300 3200

3450 3300

3600 3450

3930 3687

Weight for 4000mm

3500 3400

3750 3600

3950 3800

4580 4200
Standard Accessories: Optional Accessories:
1. Centers; 1. Quick change toolpost
2. Steady rest (750mm without this); 2. 2-axis Digital readout
3. Follow rest (750mm without this); 3. 4-jaw chuck
4. Foot plate; 4. Grinding head
5. Face plate (CA61** without this); 5. Tamping attachment
6. 3-jaw chuck;
7. Leading screw guard; (3000mm without this)
8. Toolpost protection;
9. Chuck protection;
10. Cooling system;
11. Work Lamp.
12. Back guard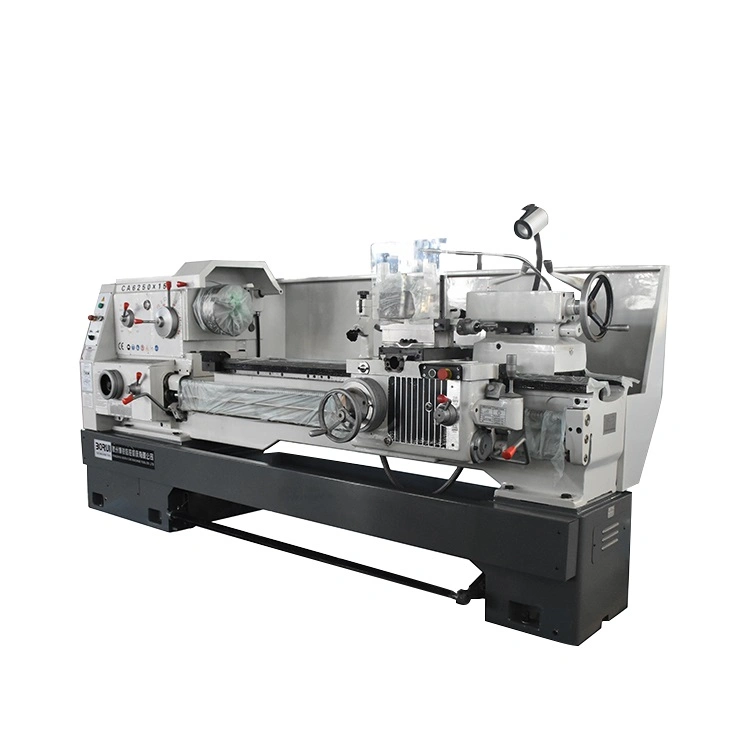 The main performance characteristics:
1 Machine tool head box and bed, tailstock, Supporting plate, etc. the combination of surface between manual scraping, machine to undergo a rigorous inspection, effectively ensure the machine tool accuracy and stability.

2 Machine adopts high strength cast iron, copper and chromium special materials are added, the bed width 400mm, bed rail quenching depth up to 4mm, effectively improves the abradability and stability of the machine.

3 The machine tool bed head box lubrication uses the pump to carry on the circulation forced lubrication, in view of the south hot weather, has guaranteed the bed head box cleanliness and the heat radiation characteristic, has effectively extended the bearing and gear's service life.

4 Wafangdian Bearing is used in machine tool spindle, the spindle through hole diameter 80mm, machine tool gear with precision grinding, can effectively improve the hardness of the gears, to reduce noise of the machine.

5 Machine tool uses the domestic brand lead screw, the silk mother uses the high quality bronze alloy to guarantee the wear-resisting property and the precision maintenance.

6 The machine adopts high strength four station turret shank size: 25x25mm.
Product Details


Packing shipping
For machine:
u
sually by sea;
For documents: by international express, eg. DHL,TNT or EMS.
For packing :
Free fumigation plywood packaging steel base
our service
1
. Technical support online service provided.
2. Technical files service provided.
3. Machine operation video provided
4. On-site training service provided.
5.Spare parts replacement and repair service provided.
6 All of the questions will be replied within 8 hours
7. If you need to develop products with your own specification, we can help you to work it out.
8. Always be honest, never lie to customer, and never declare anything we don't have
Company Information
Since
1996
,
20
years' history for machine tool manufacturing
10
years' history for export
Total
2
manufacturing bases in china
Sino-germany
technology cooperation
Production of 8 categories, more than
130
kinds of products
Set up design&research center at
TAIWAN
Exported to total
48
countries in the world covered most areas
One-stop shopping
for nearly all other types' machine tools